It wasn't raining when Noah built the ark
- Howard Ruff
Natural disasters such as floods, earthquakes, landslides, cyclones etc. have always caused peaks in mortality and morbidity throughout human history. Disaster management is how we deal with the human, material, economic or environmental impacts of said disaster. It is the process of how we prepare for, respond to and recover from the damages that are caused. Early warning indicators help to mitigate and prepare for such calamities. It prevents loss of life and reduces the economic and material impact of disasters.
Trinity's effective Early warning and Disaster Management solution helps to predict and visualize natural disasters by integrating IoT data and other weather data, analyse the impact, facilitate public education and awareness of risks, effectively disseminate messages and deploy required support, thereby minimizing the loss of lives.
Early Warning and Disaster Management Software Suite
Trinity's Early Warning and Disaster Management (EWDM) Software Suite is built through three layers of smartness, using advances in digital technology - the platform, bundled applications and several user touchpoints. The platform integrates data from various IoT devices such as flood sensors, rainfall sensors and weather station data for early warning.
Applications include the Command and Control Center with AI to visualize impact, plan resources and take action, Computer aided dispatch to respond to distress calls, Mobile Workforce Management to reach incident scene quickly and provide aid, Public portal and Citizen app to raise grievances and locate resources.
Decision Support System for Disaster Management Authorities
Trinity's Software for Early Warning and Disaster Management, forms the right decision support system for authorities to plan and respond to natural disasters such as floods, earthquakes, cyclones and more. The solution is built modularly through a service offering model and can be implemented in a manner to meet the needs of various cities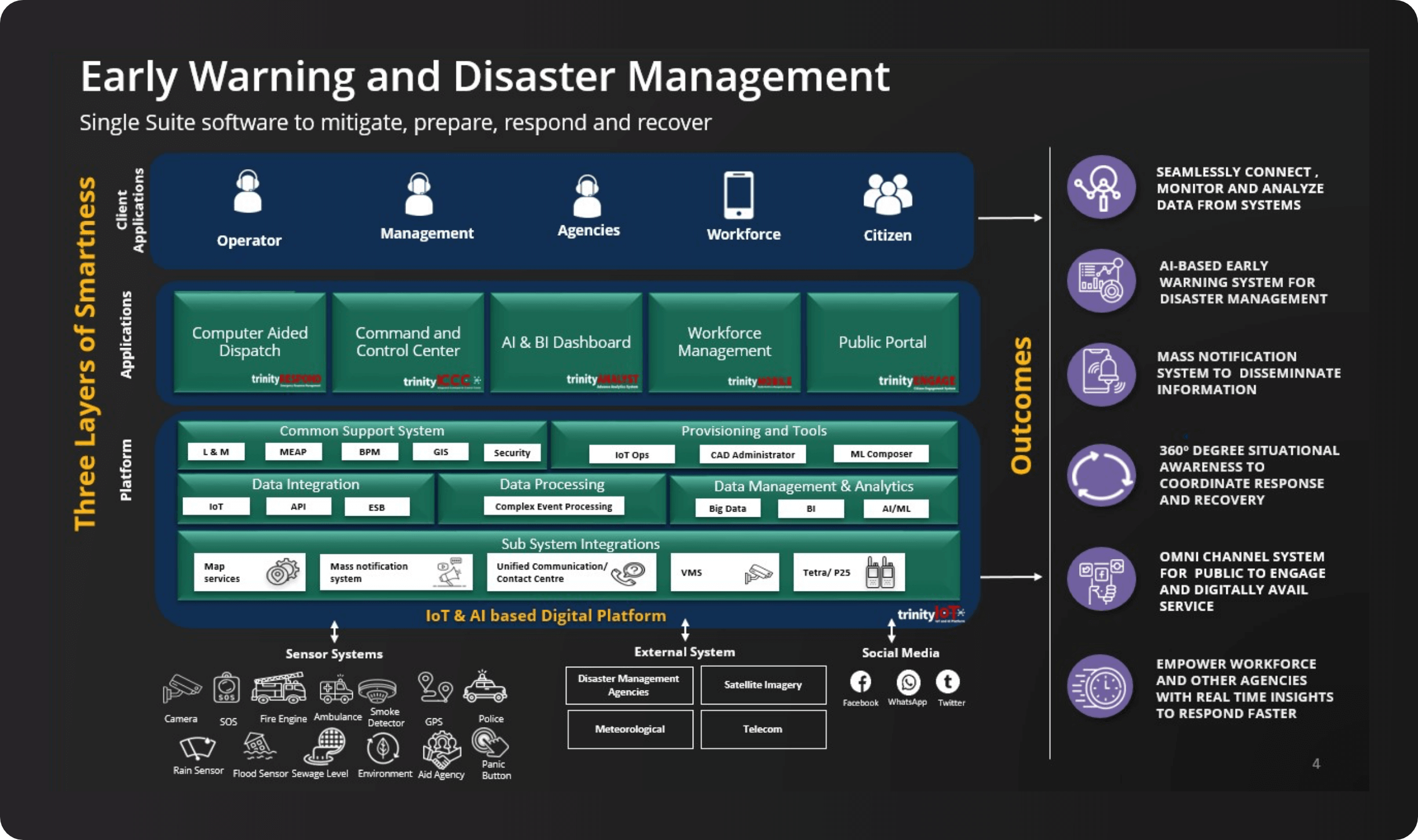 Seamlessly Connect, Monitor, and Analyse Data from Systems
Integrate data from any sensor system such as Rain sensor, Flood sensor, constrained devices through IoT subsystem and data from any external application system through API & ESB subsystem and monitor through Map and camera-based visualization.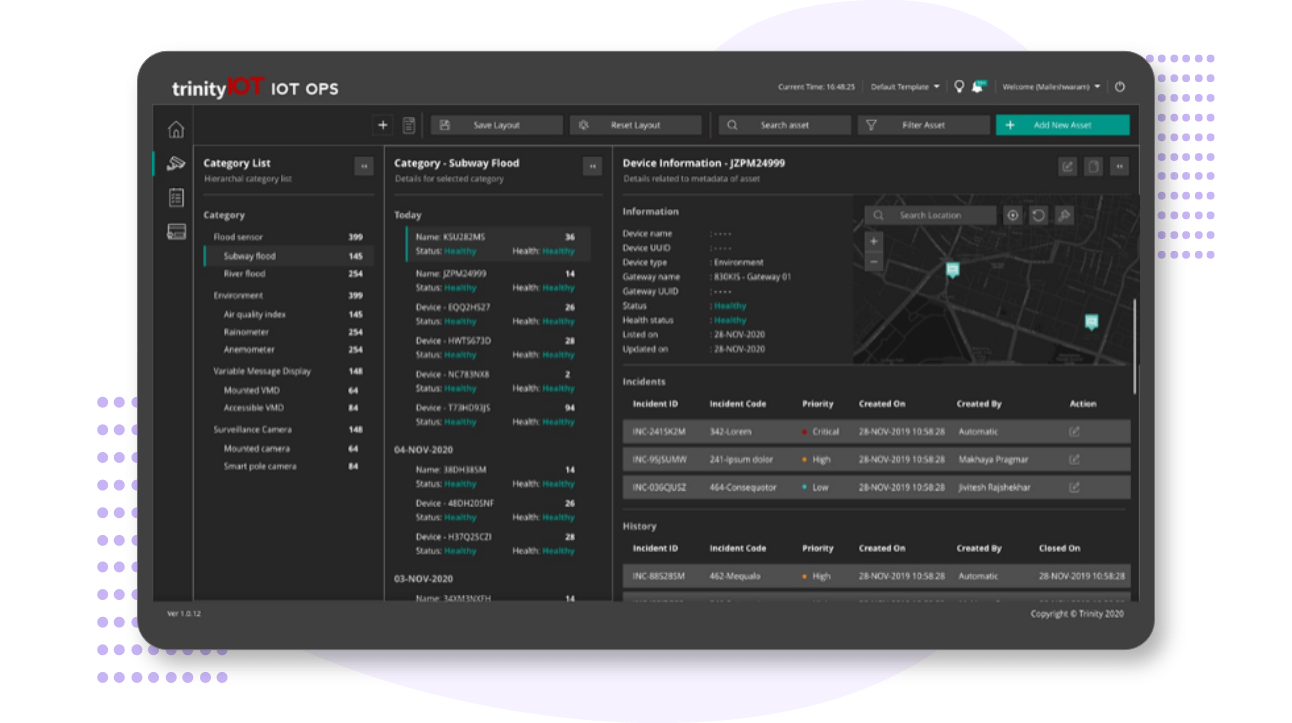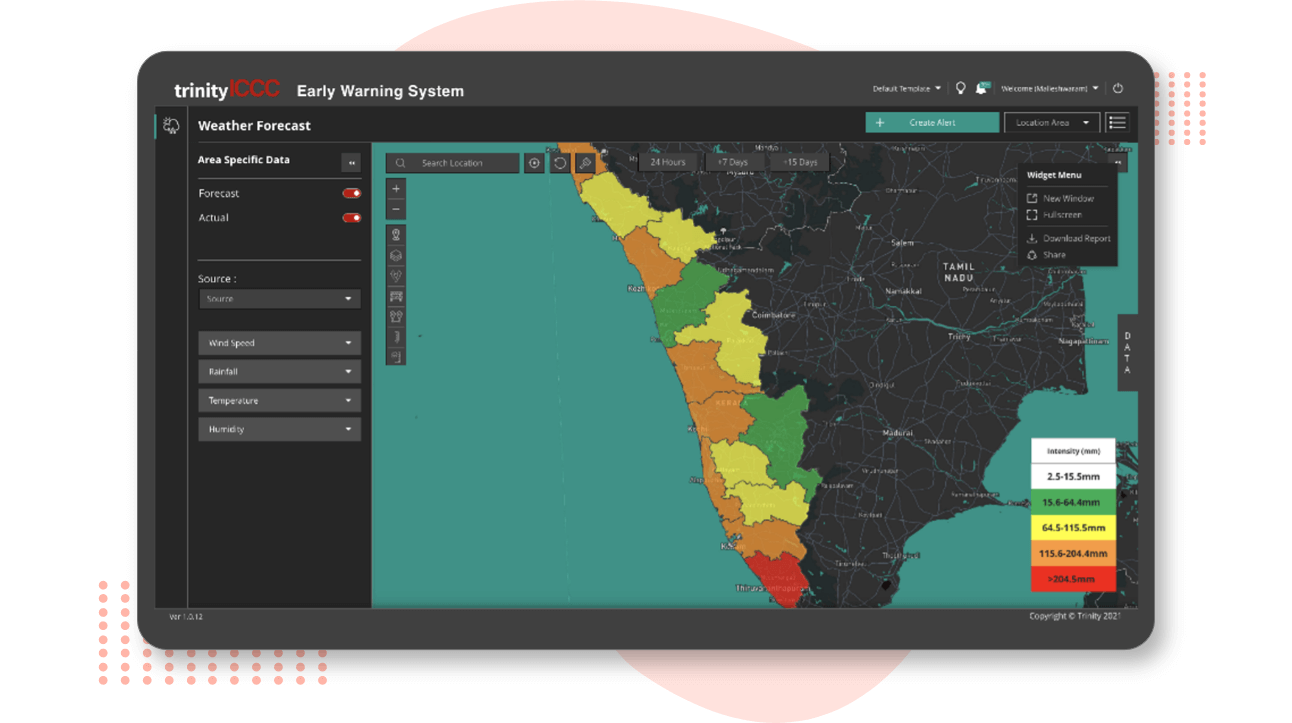 AI-Based Impact Analysis for Early Warning
Pre-Integrated ML models to asses impact through a GIS map-based visualisation and mapping of all the points of interest. Analyse and identify high-risk zones and hazardous areas to create a concrete mitigation plan.
Mass Notification System to Disseminate Information
Integrate with the Mass Notification system to deliver early warning notifications across various channels – Sirens, SMS, Voice, Variable message boards, Media networks, social media, and public portals.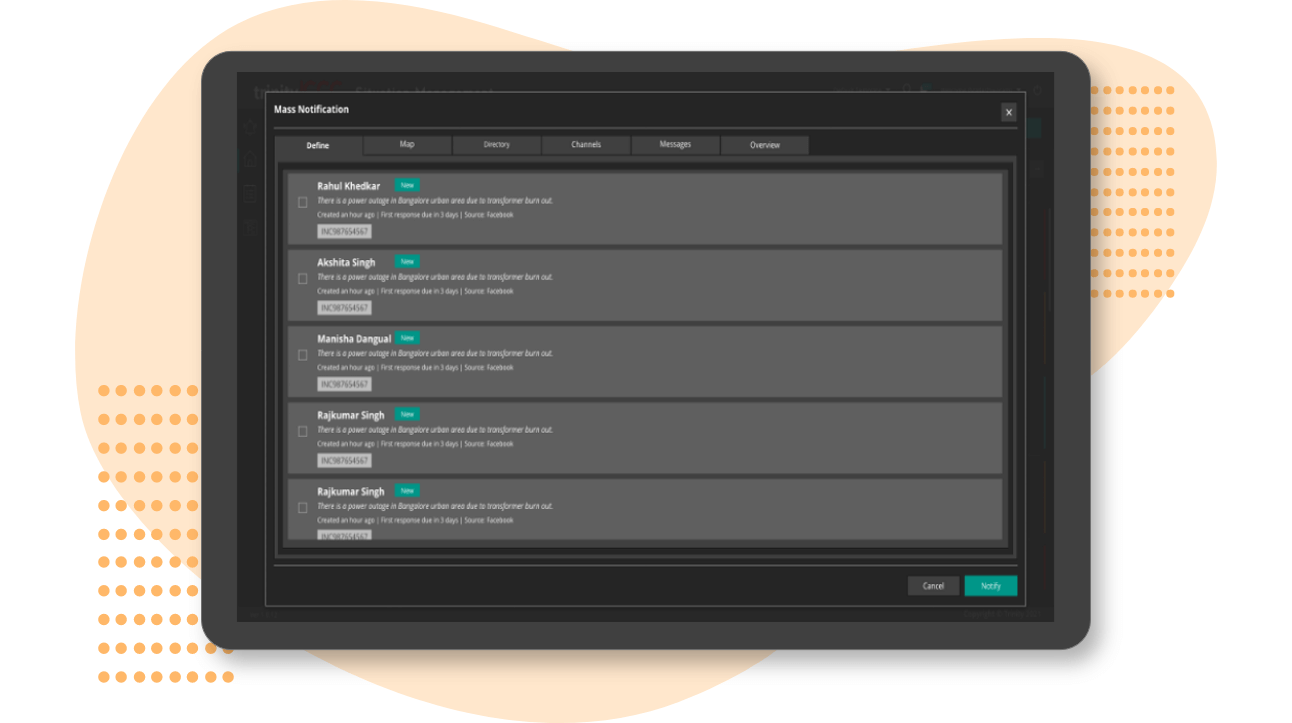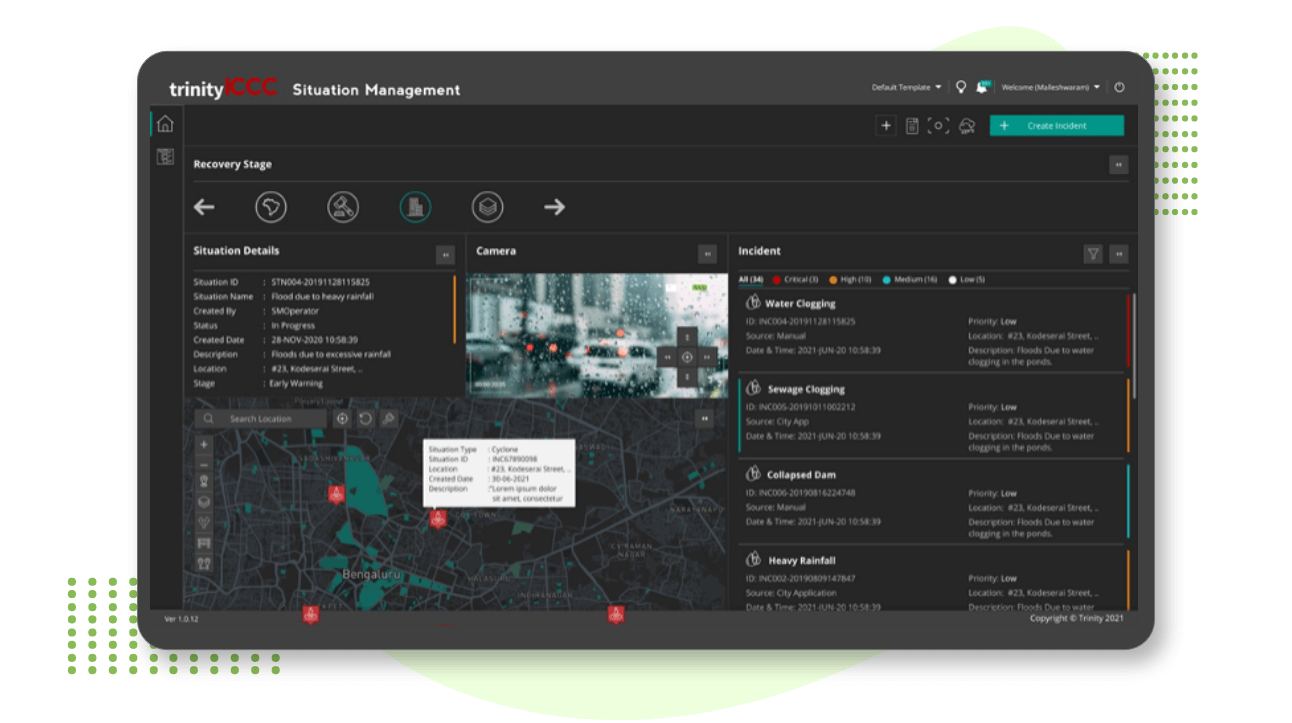 360 -Degree Situational Awareness to Coordinate Response and Recovery
It provides a 360-degree view of the situation lifecycle covering Preparedness, Response, Recovery, and Mitigation and displays all major incidents/events like urban flooding, cyclones, fires, etc., and assists in coordinating and managing the response. Pre-Integrated BI engine with Standard Dashboards enables operational insight for various departments.
Empower workforce and other agency with real time insights to respond faster
Unified Workforce management system for use by City Workforce across all departments and be able to efficiently handle operations. Computer-Aided Dispatch (CAD) enables Dispatcher to coordinate dispatch efficiently using advances in technology for Voice, Video, and Data. The solution provides complete visibility to the disasters and real-time insight to act faster for the workforce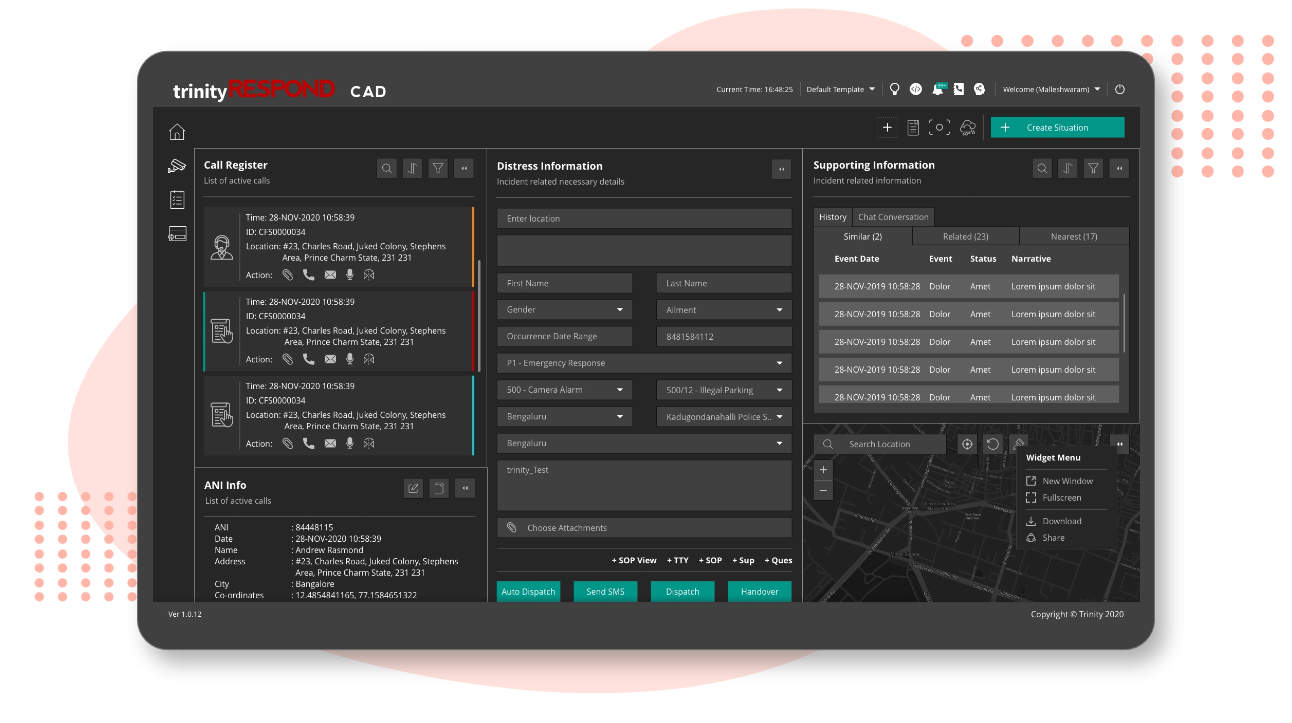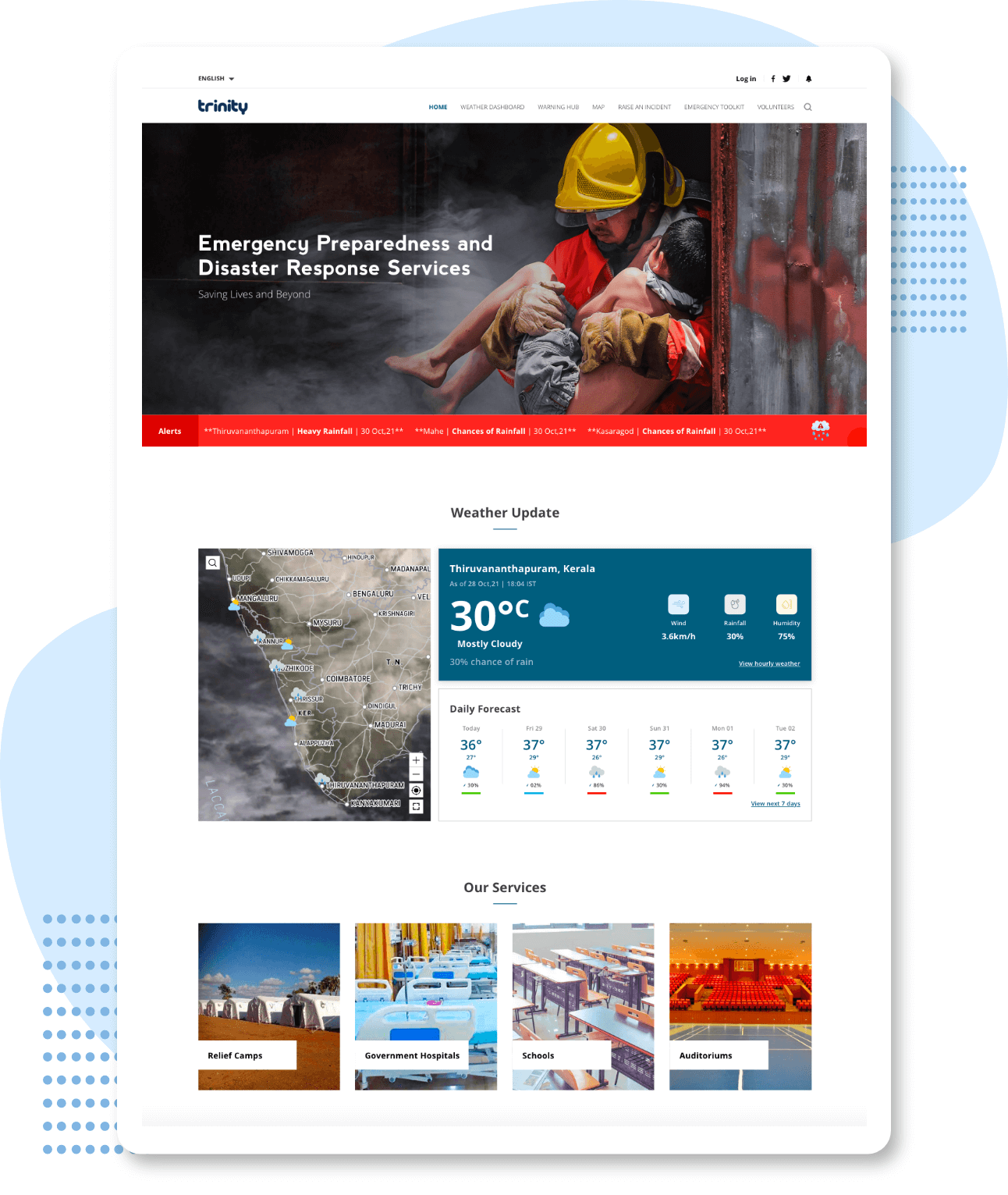 Omni Channel System for Public to Engage and Digitally Deliver Service
By integrating the emergency service request from any channel – Voice, Multi-media, social media, Mobile Apps, and Sensor Systems, the solution correlates data across various channels and creates incidents. Public Portal provides the real-time status of the Incident/Events to the citizens.