The world is a dangerous place to live; not because of the people who are evil,
but because of the people who do not do anything about it
- Albert Einstein
With more than half the global population living in urban areas today, cities are grappled with increased crime rates and limited resources to ensure law and order. In the current era, enhancing urban safety is the utmost priority for authorities to provide a safe environment for citizens. Roadblocks to deliver an efficient public safety system are- silo working model of public safety agencies, unable to identify the nearest responder, and the inability to quickly gather details from the citizen. Trinity's Safe City Solution helps to address these gaps through a digital platform based on IoT and AI technology and pre-integrated applications. It provides an end-to-end solution for multi-agency emergency services such as Fire, Police & Ambulance
Safe City: Single Software Suite
Trinity's Safe City Software Suite solution will help public safety authorities to build an environment that is safe and secure for citizens. With the Software Suite, citizens can call for emergency assistance via omni-channels, and first responders can respond to emergencies faster. The Software Suite also provides 360° situational awareness, enabling the operator of the Command-and-Control Centre to act accordingly. Using real-time video and advanced video analytics helps in capturing law violations in real-time. The solution is a Commercial-off-the-Shelf (COTS) product that adheres to industry standards for interoperability, data representation and exchange, aggregation, virtualization, and flexibility.
Intelligent public safety services
Throughout the world, major cities and towns are increasingly becoming targets of terrorism, violent crime, natural disasters, and other emergencies. Additionally, urbanization increases with rising GDP, leading to an increase in threats. Thus, governments are working extremely hard towards the safety of their citizens and providing seamless governance.
Trinity's Safe City Software Suite (SCSS) helps to address the gaps through a digital platform based on IoT (Internet of Things) and AI (Artificial Intelligence) technology, pre-integrated applications, and various user personas. In addition to integrating the various operations of the public agencies, it provides a centralized call-taking and dispatch model to handle citizen service requests and dispatch emergency responding units.
The complete solution stack is built on an integrated approach of three layers of smartness – the platform, bundled applications and client applications catering to personas. It is created modularly through a service offering model and can be implemented in a manner to meet the needs of various cities.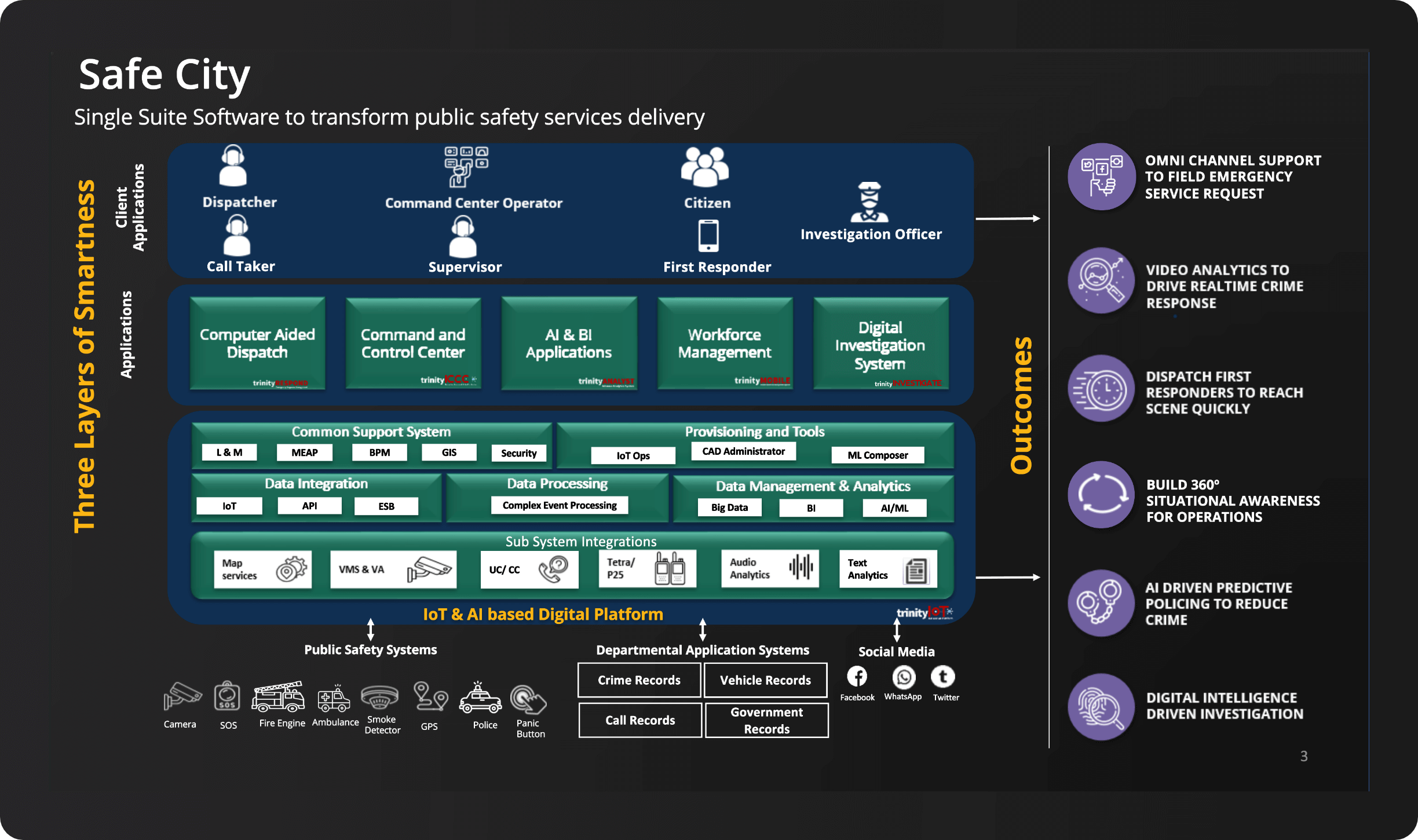 Omni Channel Support to Field Emergency Service Request
Unified platform and Application approach to integrate emergency service requests from any channel – Voice, Multi-media, social media, Mobile Apps and Sensor Systems. Additionally, Pre-Integrated with leading Contact Center Platforms to support large call volume handling, automated call routing, and voice recording.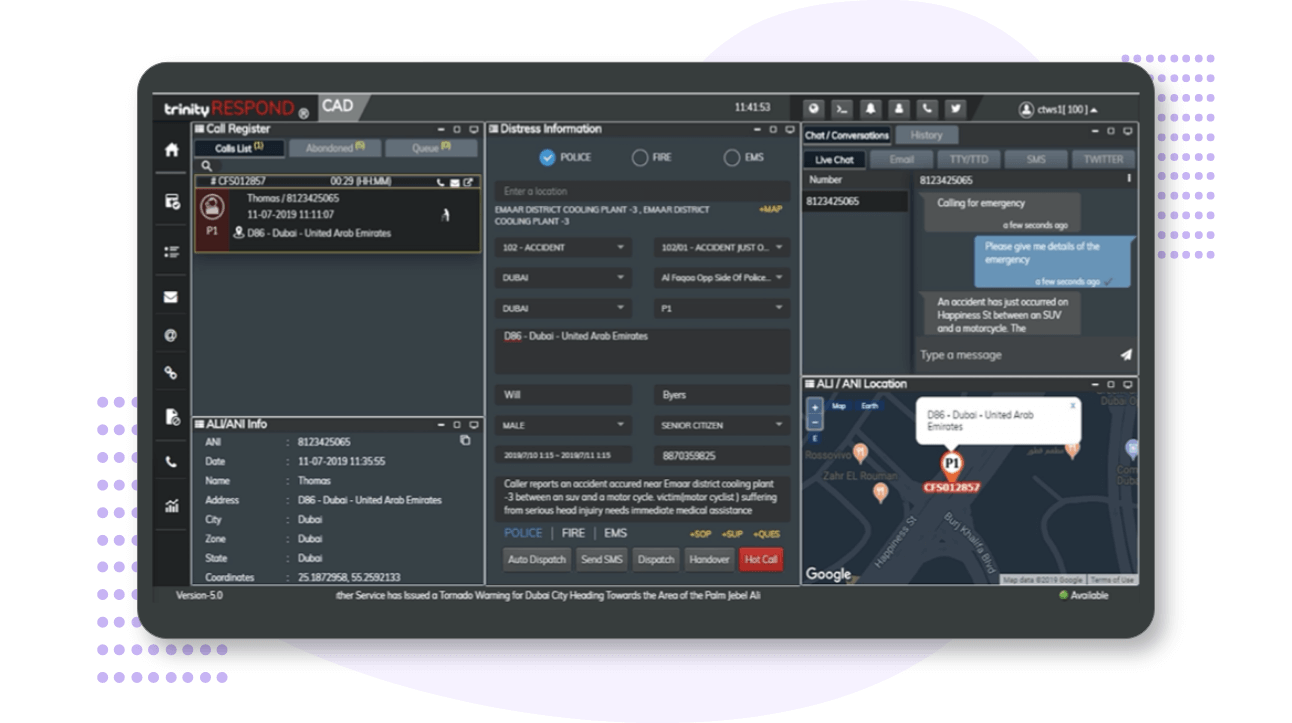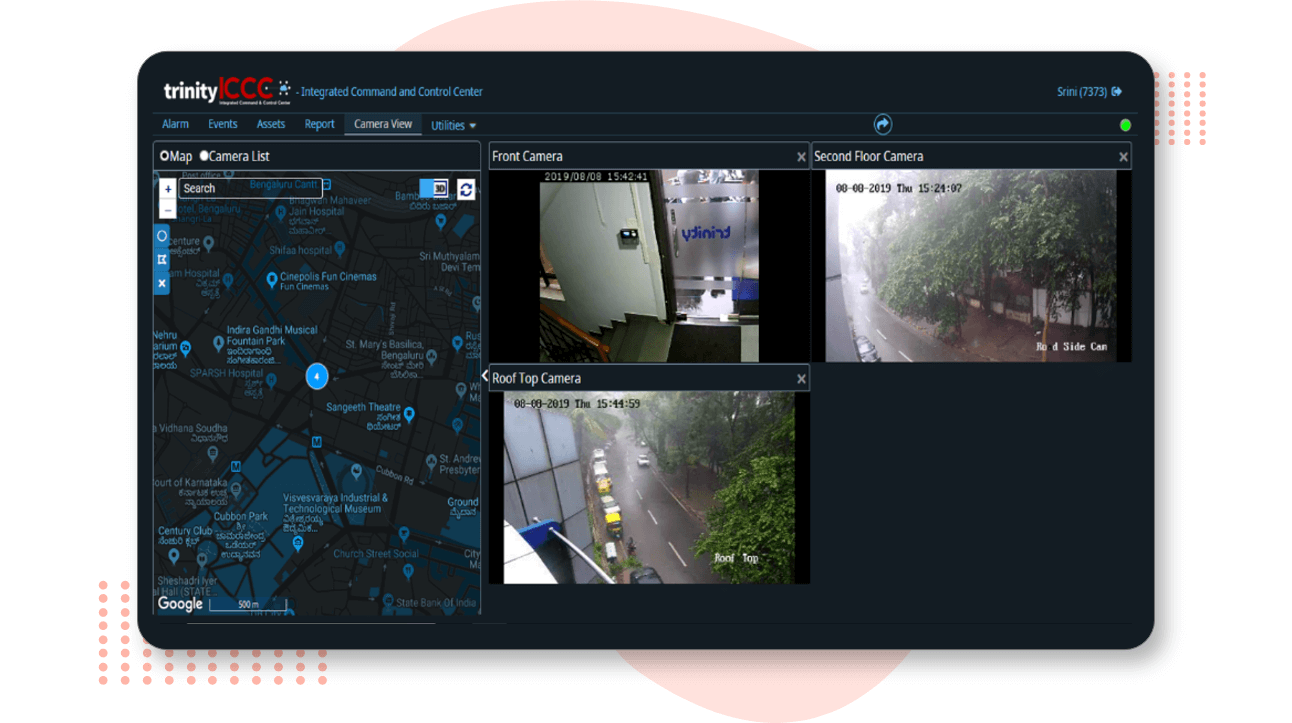 Video Analytics to Drive Real-time Crime Response
Use real-time video and video analytics for crime detection. It uses seamless integration with Video Analytics to capture crime and law enforcement-related real-time events and support rich GUI (GRAPHICAL USER INTERFACE) combining map-based visualization, live video streaming and video snapshots.
Dispatch First Responders to Reach Scene Quickly
Equip first responders with right technology for real-time insights and to stay connected. It enables Dispatcher to coordinate dispatch efficiently using advances in technology for Map based location intelligence, video, voice & data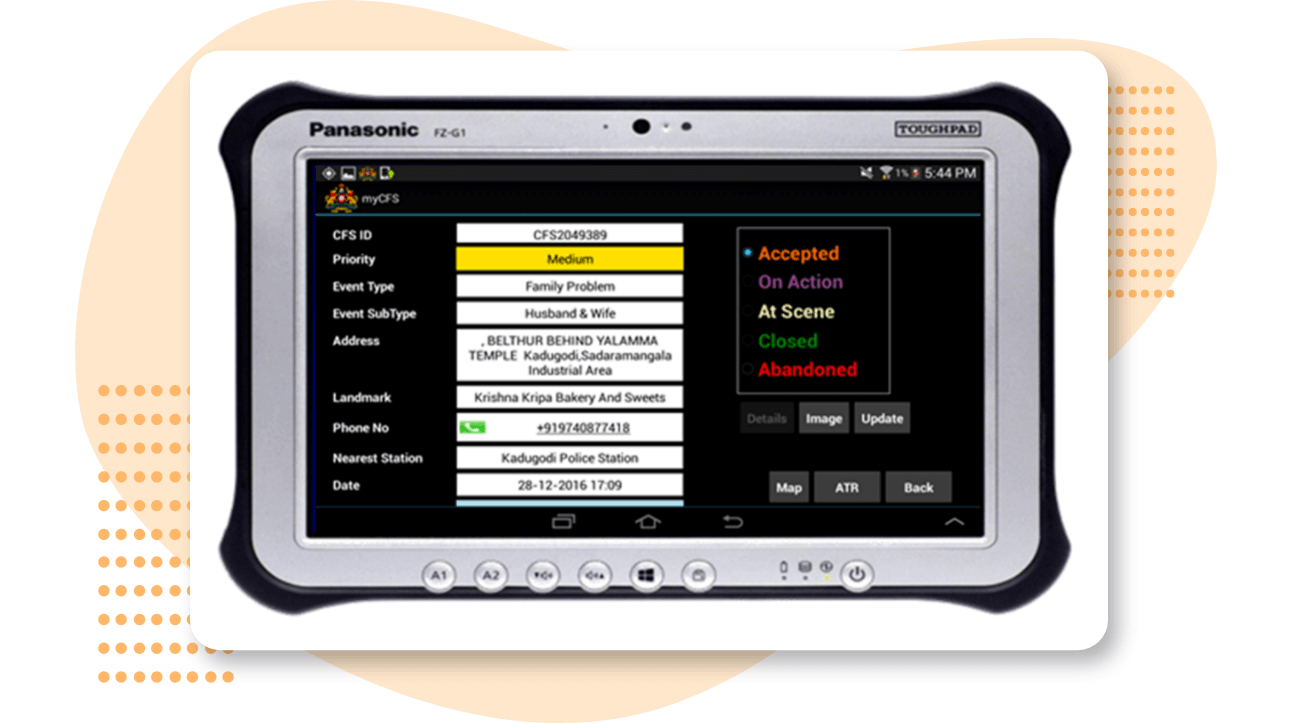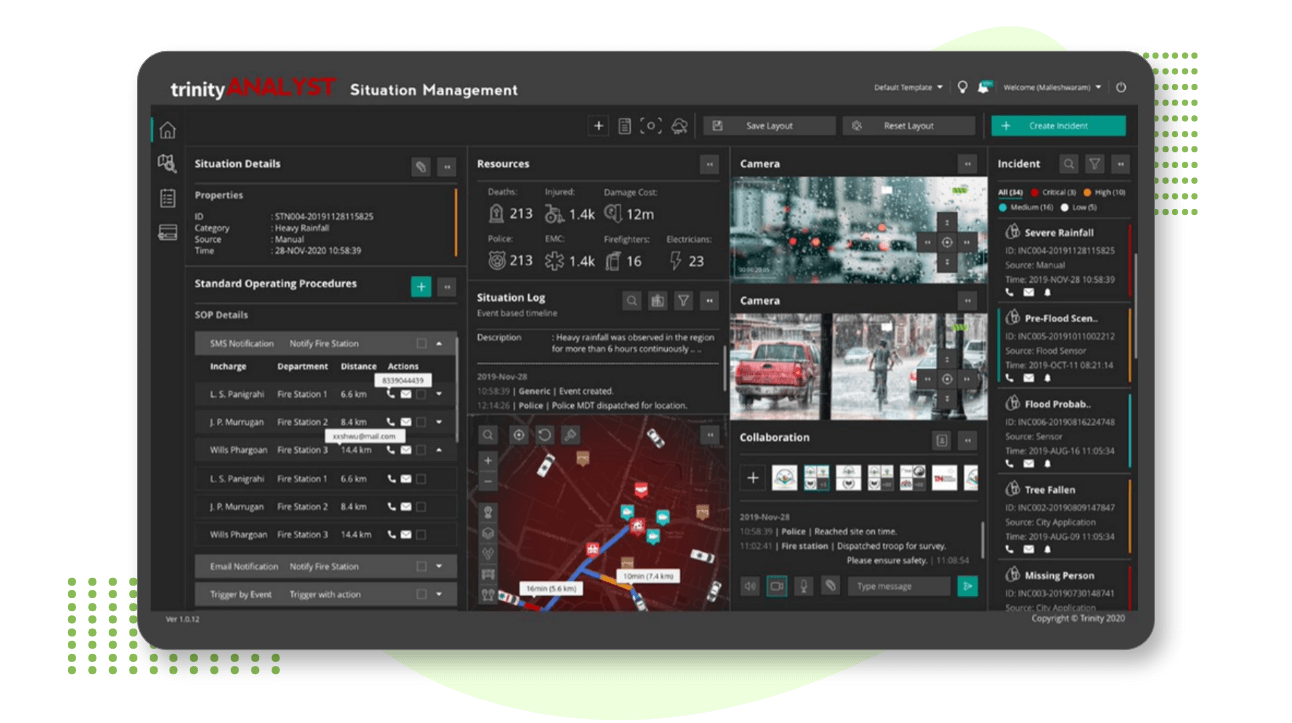 Build 360° Situational Awareness for Operations
Effectively manage emergency operations, unifies data from the multiple systems and builds a common operating picture for stakeholders. The solution helps to handle major events and incidents that occur in the city using BI Dashboards.
AI-Driven Predictive Policing to Reduce Crime
AI-driven solution for Providing Analytical Capabilities – Crime Analytics, Predictive Policing, and Social Intelligence.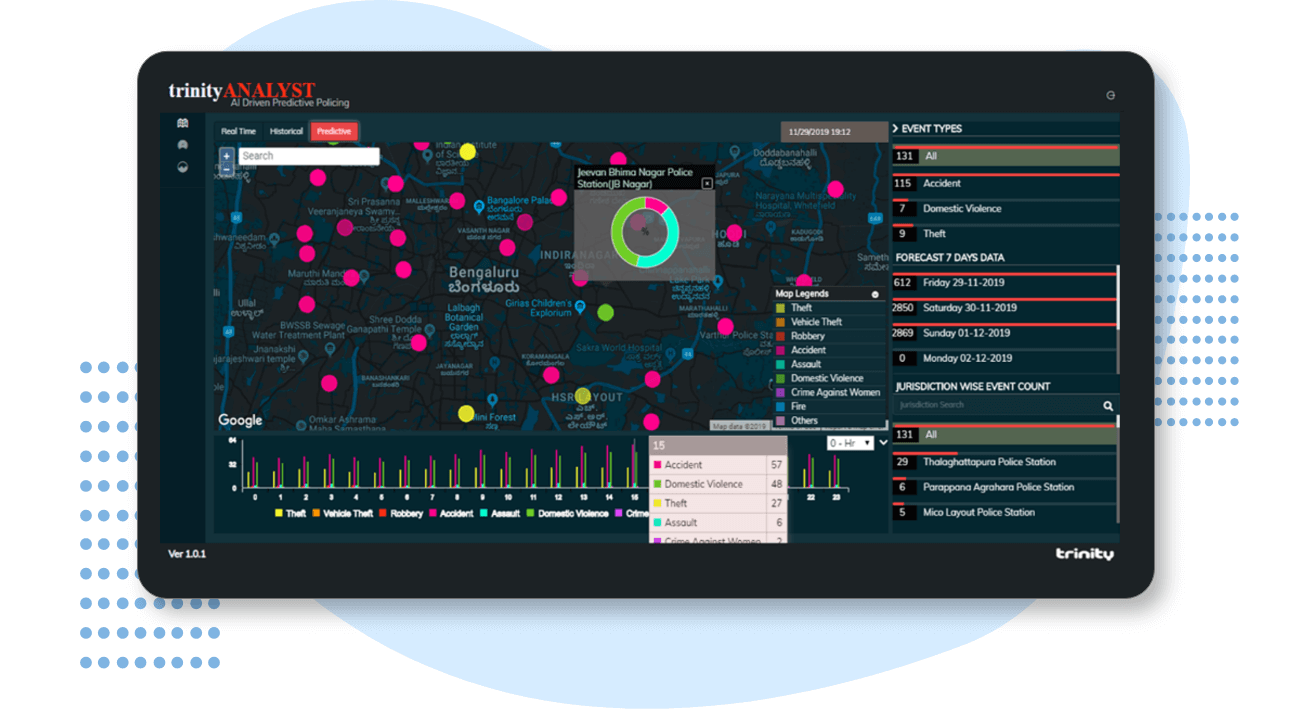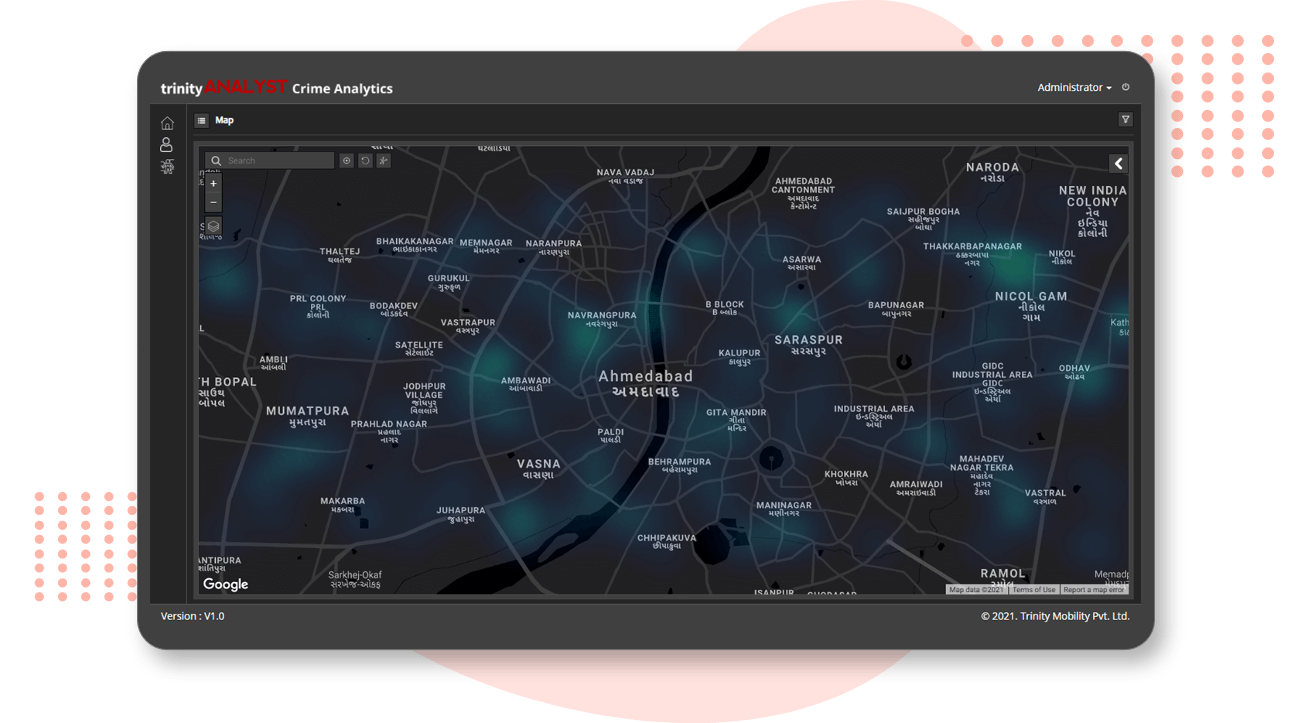 Digital Intelligence-Driven Investigation
Provide an Intelligent Investigation system to assist the Investigation Officer. An easy-to-use interface to perform multi-dimensional investigation on crime incidents/events using a single pane of glass to provide evidence logs to the field responder and authorities.