Sustainability is the key to our survival on this planet and will also determine success at all levels.
- Shari Arison
The Smart Utilities refer to the use of technology and advanced data analytics to improve the efficiency, reliability, and sustainability of utility services such as electricity, gas, and water. A Smart Utility system has the capability to integrate, control and monitor status of Smart Meters and sensors. The system can also report any anomalies such as over usage of energy, missed meter reading, etc. in real-time, for Utilities to take suitable action. At Trinity Mobility, we address digitization challenges for Utilities using advanced technologies so that it improves efficiency, reliability, and sustainability of these services, thereby benefiting both Utilities and its consumers.
Smart Utilities Software Suite
At Trinity Mobility, we address digitization challenges for Utilities using advanced technologies so that it improves efficiency, reliability, and sustainability of these services, thereby benefiting both Utilities and its consumers. Trinity's Smart Utilities Software Suite adds digital intelligence to the Utility distribution that helps authorities to efficiently run utility operations and optimize energy consumption. The Single Suite Software assists the administrators to monitor & streamline utility operations, enable quality control & reduce energy consumptions along with operational costs.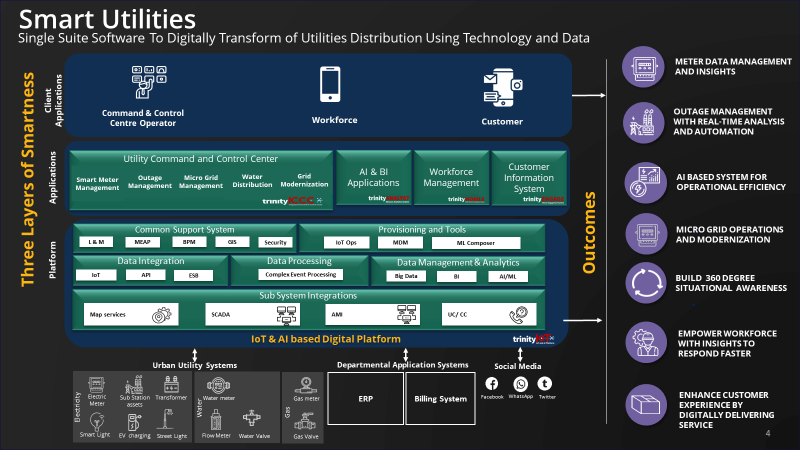 This suite is built through 'three layers of smartness' – the Platform, Bundled Applications and various User touchpoints. The pre integrated Digital Platform of the software suite can integrate data from various sub-systems such as Metering Infrastructure, SCADA systems and other Sub-station assets and deliver the total value to drive the digital transformation of utilities using technology & data. The Software Suite comes with pre-Integrated bundled applications like – Utility Control Center, Meter Data Management, Grid management, Mobile Workforce Management System, Customer Information System, & various other Utility related AI applications that provide out-of-the-box support to quick-start the Smart Utility journey.
The digital platform, bundled applications and various client applications supporting user personas, integrate various utility operations into a unified system that delivers a comprehensive value to drive the digital transformation in the utility services delivery. This solution is an industry standard based Commercial-of-the-shelf product, and adheres to the industry standards for interoperability, data representation & exchange, aggregation, virtualization and flexibility.
Outcomes of Smart Utilities Single Software Suite
Meter Data Management and Insights
This refers to data collection and processing from the Meter Data Management (MDM) middleware with IoT subsystems to integrate data from smart meters to collect, process, store and analyze meter data. Its features include Anomaly Detection that helps in spotting anomalies by processing and correlating data across domains along with the location intelligence is used to identify an asset's location. The Meter to Cash Processing capability assists in Automated Service Order and Billing that delivers quick services to consumers and adds on to the Utilities' revenue.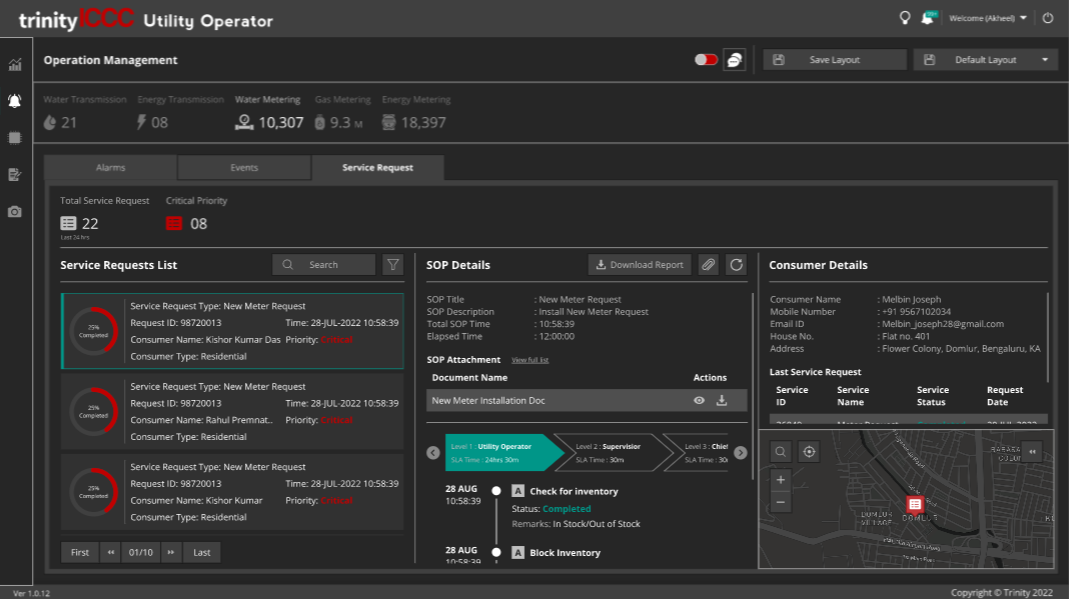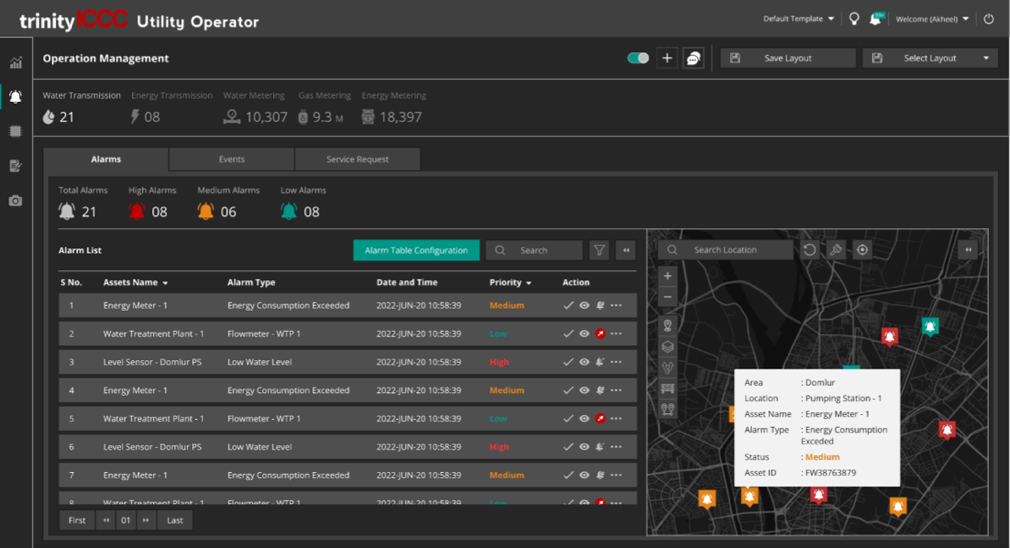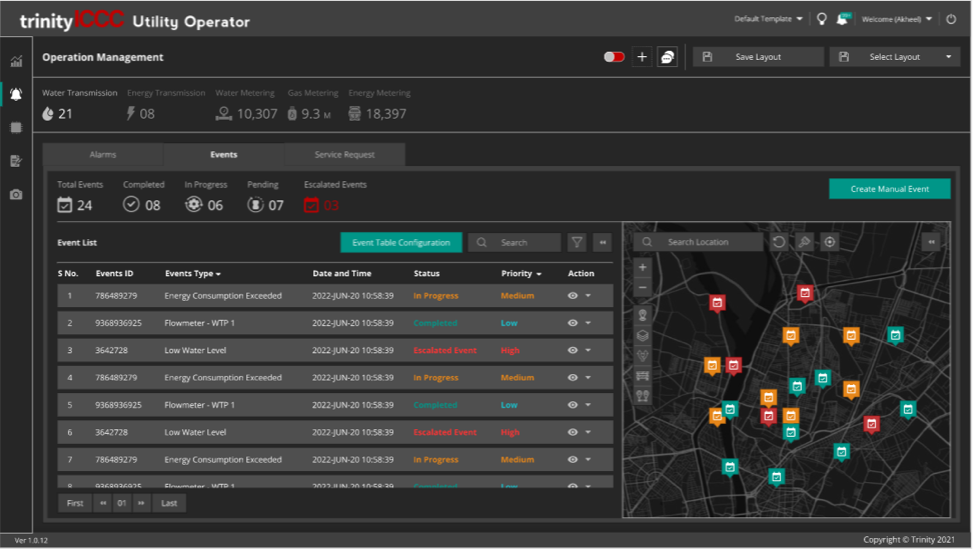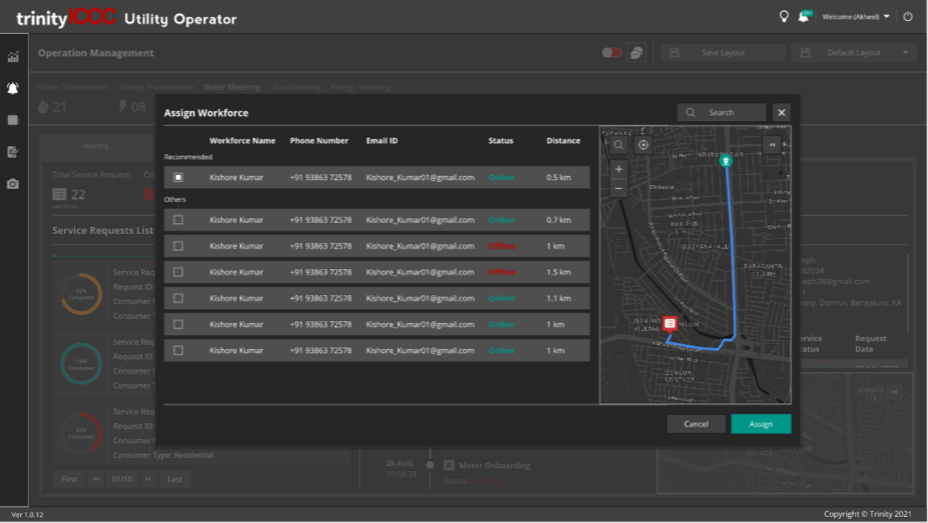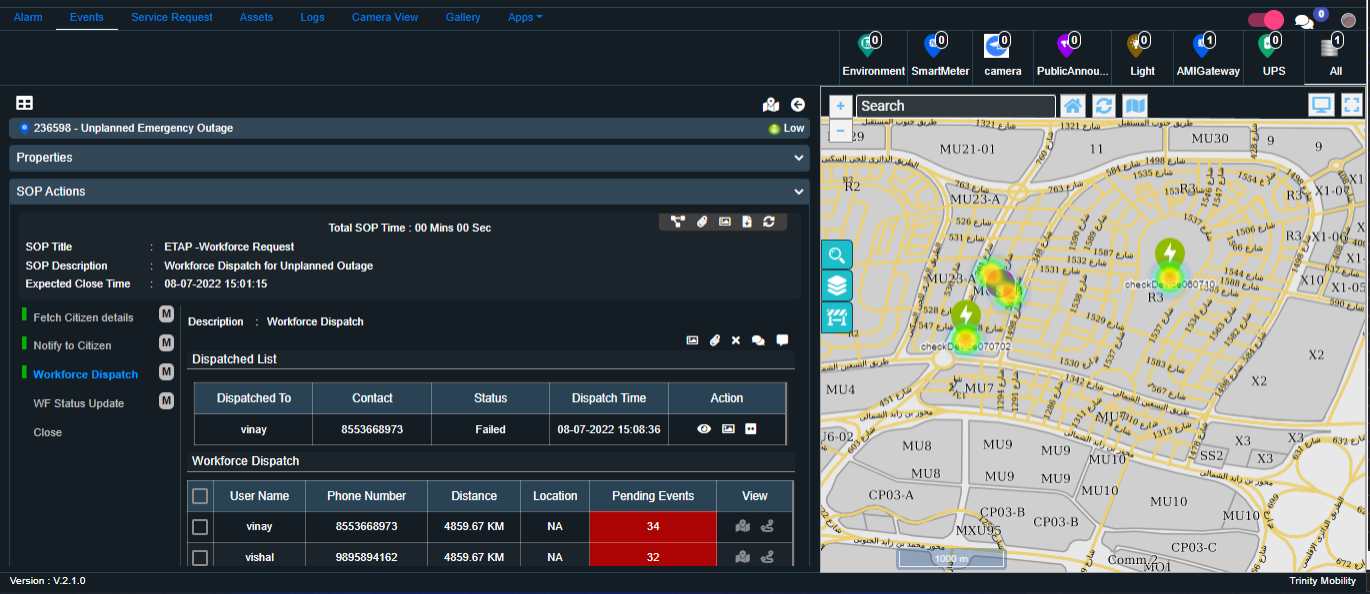 Outage Management with real-time analysis and insights
Outage Management System (OMS) offers the most reliable performance in storms and provides real-time situational awareness for operators and field crews. The system enables continuous monitoring, analysing & optimization of grid operations and provides centralized intelligence. The dedicated system supports the consumers with transparent data on the outage restorations.
Grid Management with Real-Time Analysis and Automation
Utilizing capabilities of data analytics and GIS based network analysis, the grid operators can efficiently manage the variable outputs of energy sources in the distribution network of the entire value chain from generation to distribution. This will assist utilities to reduce their reliance on fossil fuels and thus meet its sustainability goals of reduced carbon emission. This reduces the utility CAPEX and stable energy supply to consumers. This benefits both utilities and their customers by reducing the need for costly repairs along with availability of electricity.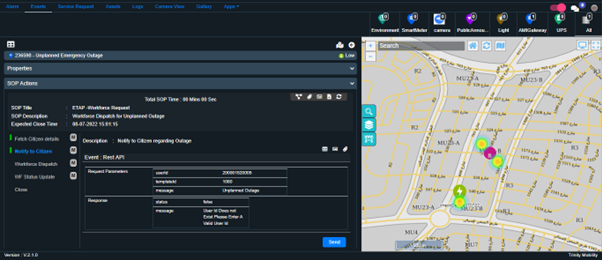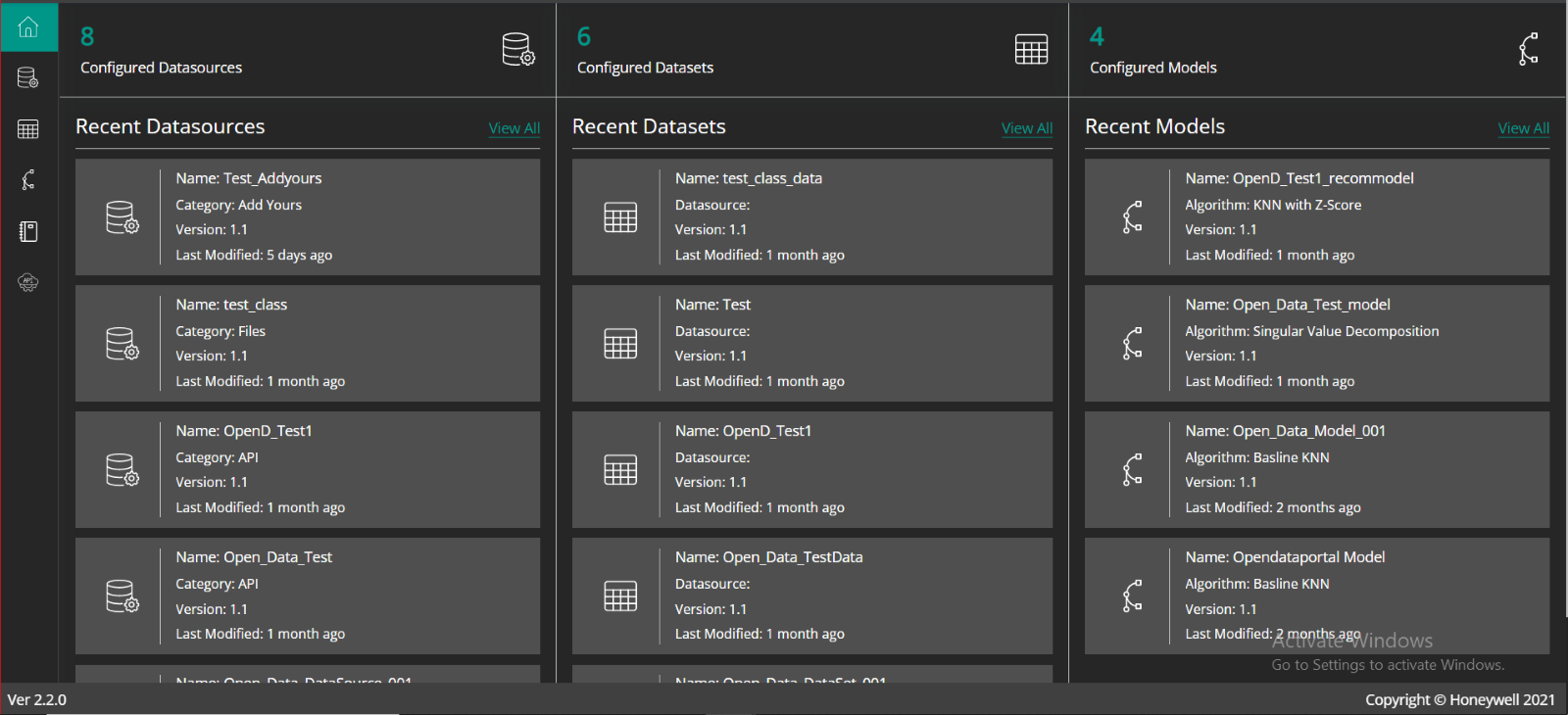 AI Based System for Operational Efficiency
Advanced technologies like AI & ML can efficiently drive and optimize the operations of various Advanced technologies like AI & ML can efficiently drive and optimize the operations of various utility departments. The pre-integrated Artificial Intelligence (AI) engine provides an environment for users to build, store and deploy Machine Learning (ML) models that can be used by various applications. Major AI use case in utilities will be the leakage detection, grid outage detection. Leakage Detection System helps to predict leakages in advance to reduce losses. Predictive maintenance AI model can be used to analyze device health to predict maintenance requirement to reduce equipment's downtime.
Building a 360º situational awareness
The Utility Command & Control Center can provide a 360-degree situational awareness to the operator for managing the utility operations effectively by unifying the data from the various systems and creating a centralized visualization for the stakeholders. This solution provides situation awareness to handle major events like outages, meter theft and tampering. Using a pre-integrated BI Engine, the operational dashboards can be built to monitor KPIs along with performing root cause analysis of KPI breaches.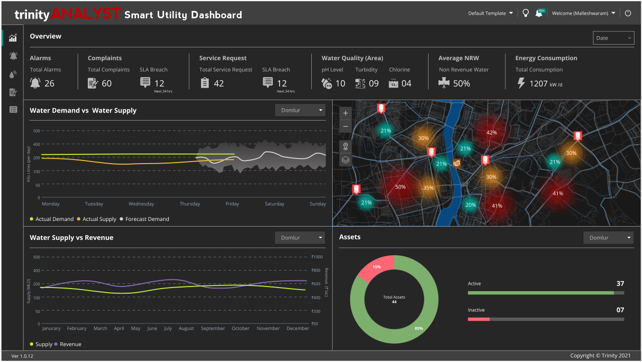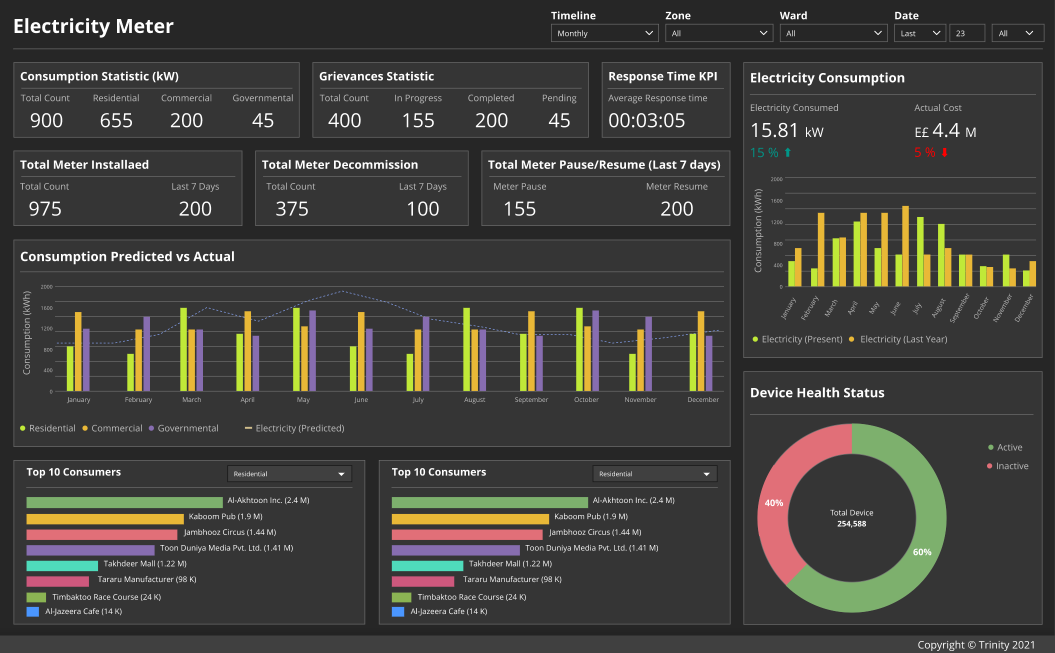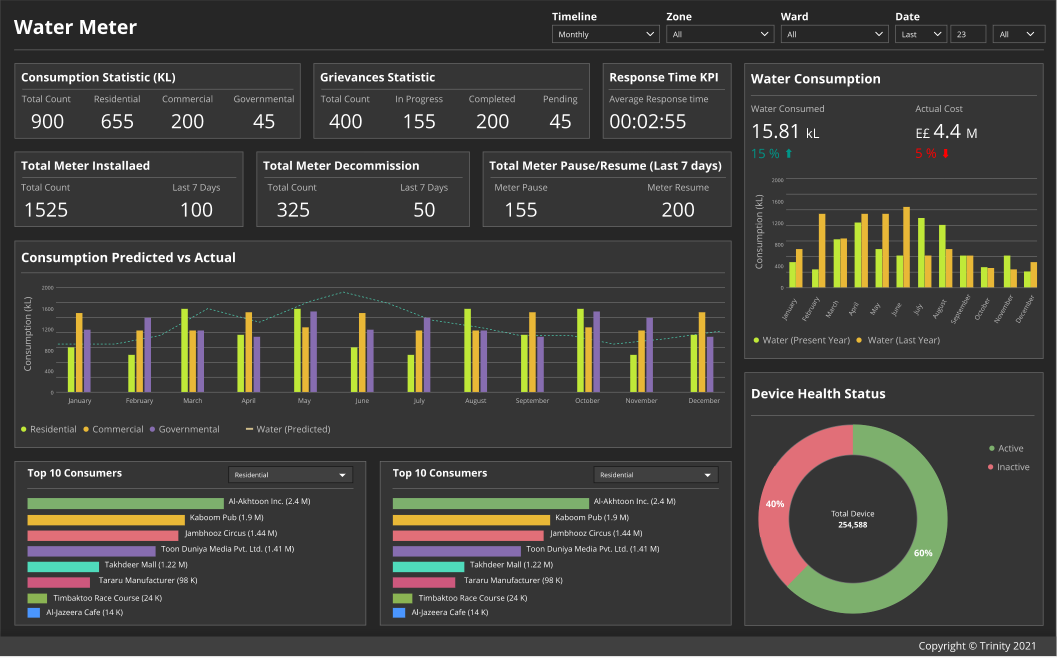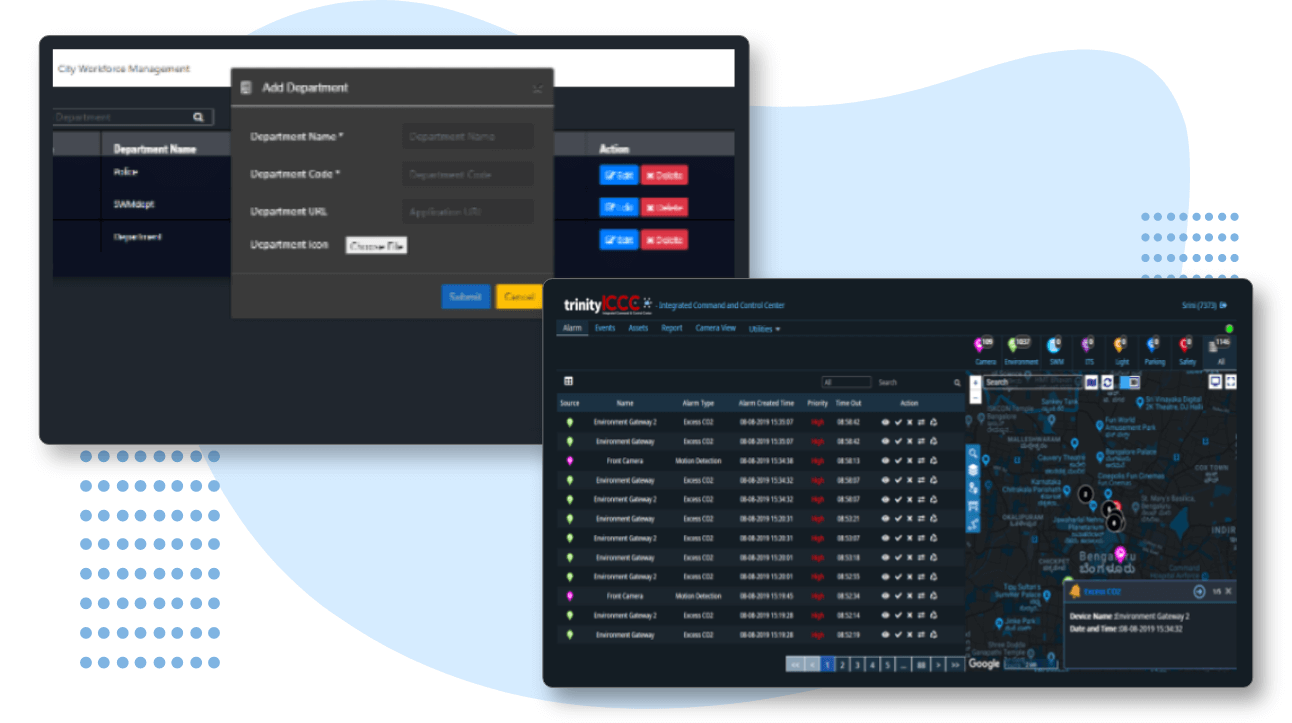 Empowering Workforce with Insights to Respond Faster
The Workforce Mobile App for Utilities provides all the intelligence and insights that are required for workforce to stay connected and act on a real-time basis. Advanced features like Workflows, SOPs, e-Forms can be integrated with this app, thus providing clear directions and guidelines to the workforce to efficiently handle incidents. The Mobile App is based on user roles and supports workforce across the various departments. It enables the workforce to provide real time insights on work progress. This provides end-to-end visibility on the events with a real-time insight for a quick service delivery.
Enhance Customer Experience by Digital Service Delivery
Trinity's advanced platform provides an end-to-end solution to drive citizen engagement, allows citizens to raise grievances and avail civic services digitally. Applications such as Customer Information System allows citizens to digitally avail utility services & pay bills. Additionally, the Citizen Web Portal provides vital utility information and promotes e-governance. a Chatbot-based digital assistant delivers utility services to the citizen without any human intervention. Citizens can raise service requests such as new meter installation, pause/resume meter functions, decommission meters, change ownership, checking energy consumption data & recharging their meter services through the Citizen Mobile App.