The single most important thing a city can do is provide a community
where interesting, smart people want to live with their families
- Malcolm Gladwell
A community is a planned township with commercial, residential and recreational facilities which can be private or government owned. A smart community leverages technologies to benefit their residents, businesses, and potentially attract visitors by providing world-class experience, amenities and services. Smart communities aim to improve the livability of the community in the face of increasing pressures while providing cost efficiencies and new revenues opportunities that improve sustainability. Trinity's Software Suite adds digital intelligence to community systems to help community stakeholder to efficiently run operations, provide better governance and thereby increase quality of living for residents, corporates and visitors.
Smart Community Software Suite
Trinity's Smart Community Software Suite is built through three layers of using advances in digital technology - the platform, bundled applications and various user touchpoints, which integrates several operations of the community into a unified system and deliver the total value to drive community digital transformation.
The IoT & AI-based Smart Community Digital Platform can seamlessly connect to any sensors or systems such as Building Management, SCADA, Advanced Metering Infrastructure to collect, process and analyze the data to detect any anomalies.
Pre-Integrated bundled applications such as KPI driven Command & Control Centre, Mobile Workforce Management system, Community Engagement system, Smart Parking, Solid Waste management solutions for various in-line departments, provide out-of-the-box support to jump-start and roll your Smart Community journey
IoT and AI powered Communities
Today smart cities are emerging at a fast pace, however, connecting them is a bigger challenge. Smart city services are not just for "cities". These pressures can affect communities of all sizes, putting a strain on public safety, infrastructure, energy and the environment, and budgets. Thus, governments are finding it tough to respond to city services in time and provide seamless governance.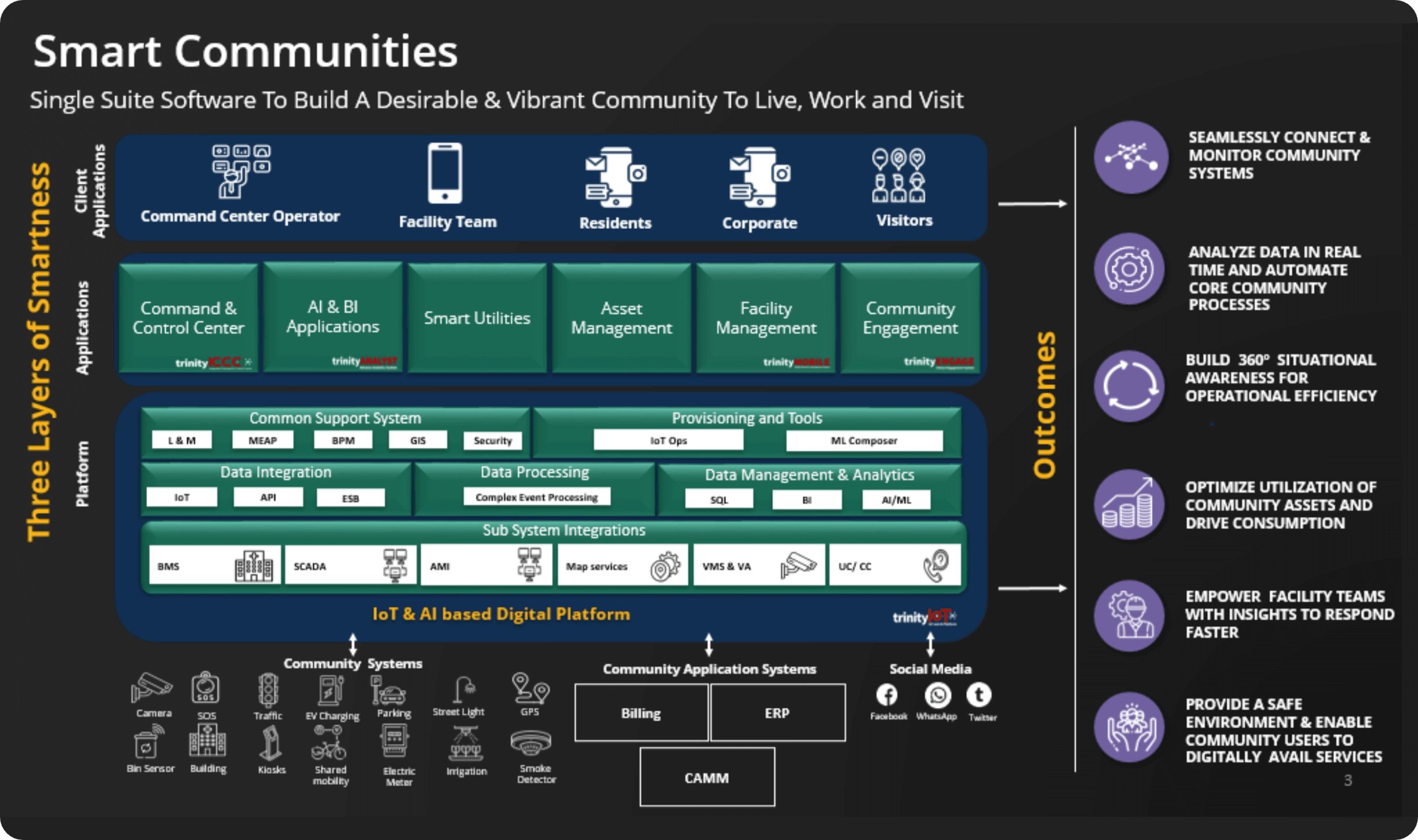 Trinity's community solution helps to address the gaps through a digital platform based on IoT and AI technology, pre-integrated with applications and various client applications. The solution helps the stakeholders to streamline & automate community services, effectively manage asset utilization, optimize resources & provide a safe & engaging environment for residents & tenants to live.
Trinity's three layers of smartness are built using digital technology - the platform, bundled applications, and various client applications which connect the various operations of the community into one system and deliver the total value to build a desirable and vibrant community to Live, Work and Visit.
Seamlessly connect & monitor community system
Connect various community systems and assets – Commercial Buildings, Utilities, Street Lighting, Parking, Environment, Physical security, sports and recreation facilities, mobility system, garbage collection, and irrigation. Build a Unified Command and Control Community Center to run the operations.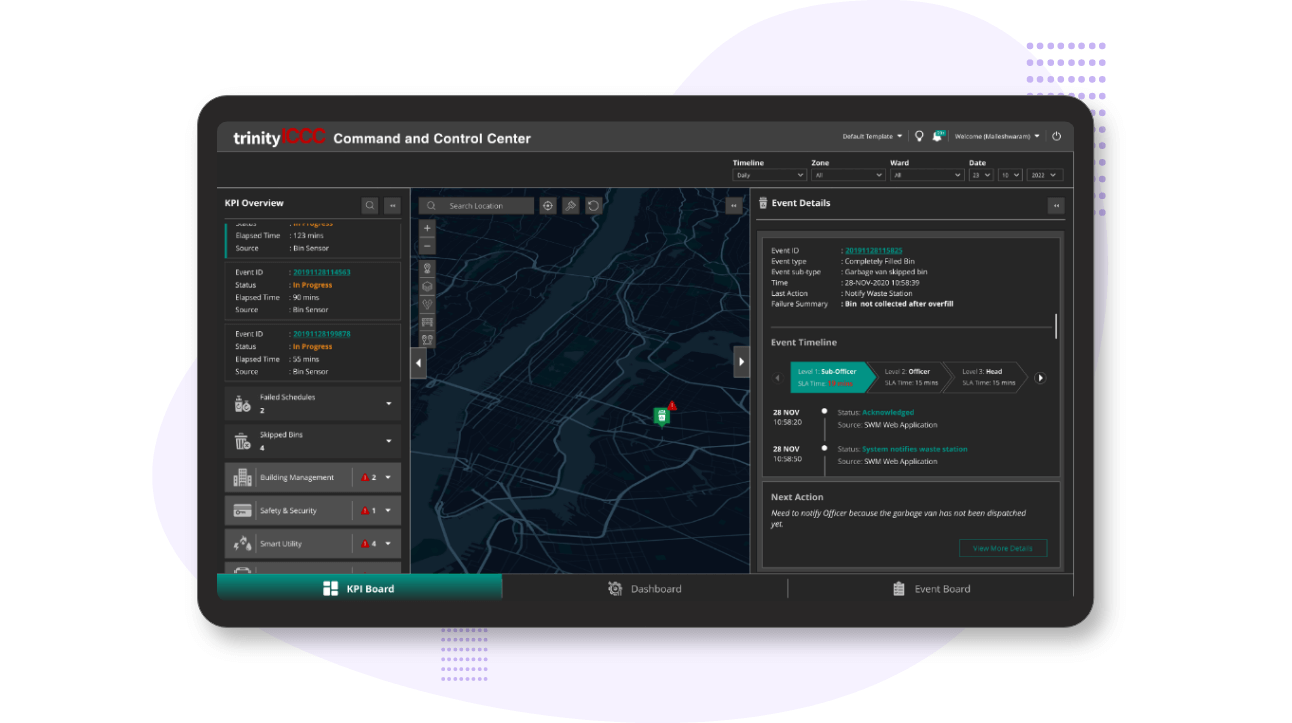 Analyze data in real time and automate core processes
Use technology advances in complex event processing and edge analytics to detect anomalies in real-time across various community system. An easy-to-use pre-integrated BPM (Business Process Management) engine to dynamically create the automation workflows (standard operating procedures) for various core processes.
Build 360◦ situational awareness for operations
Community command & control centre to unify the data from the various system and create a common operating picture to run the Community operations in real time. Pre-Integrated Business Intelligence to build and deploy Dashboard for monitoring operational KPIs and gain insights to Community services delivery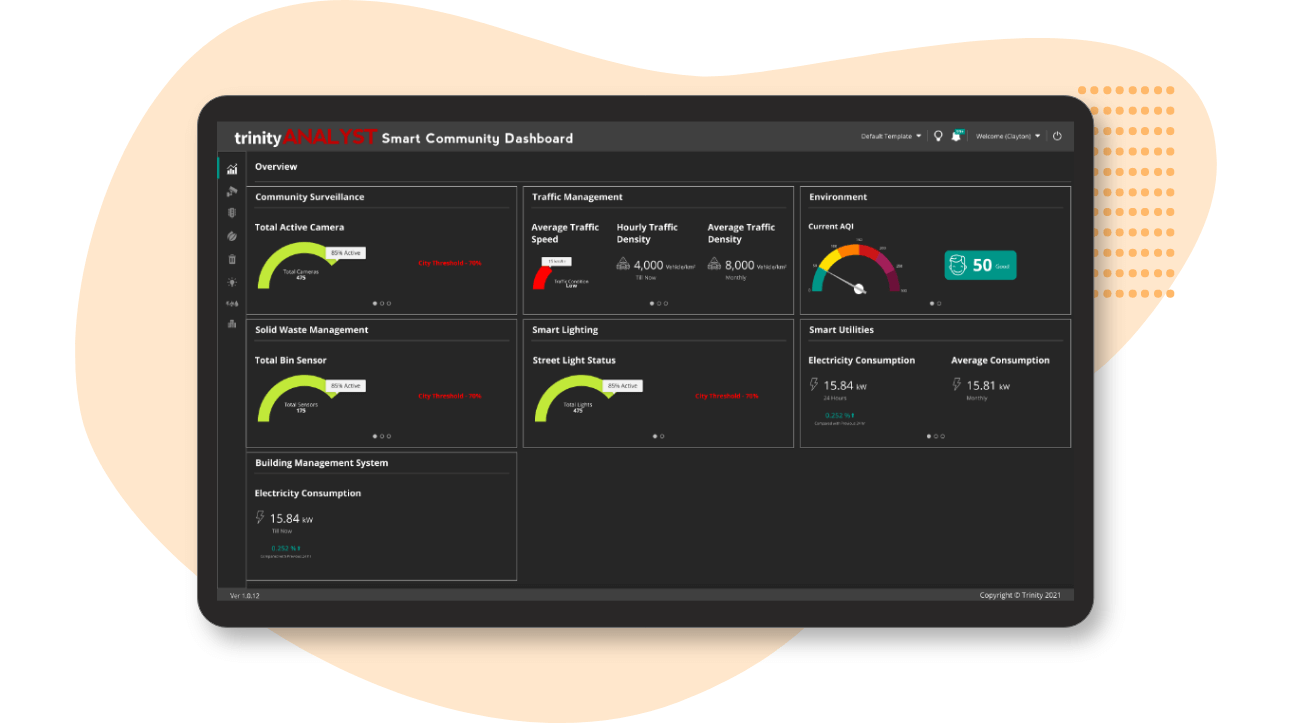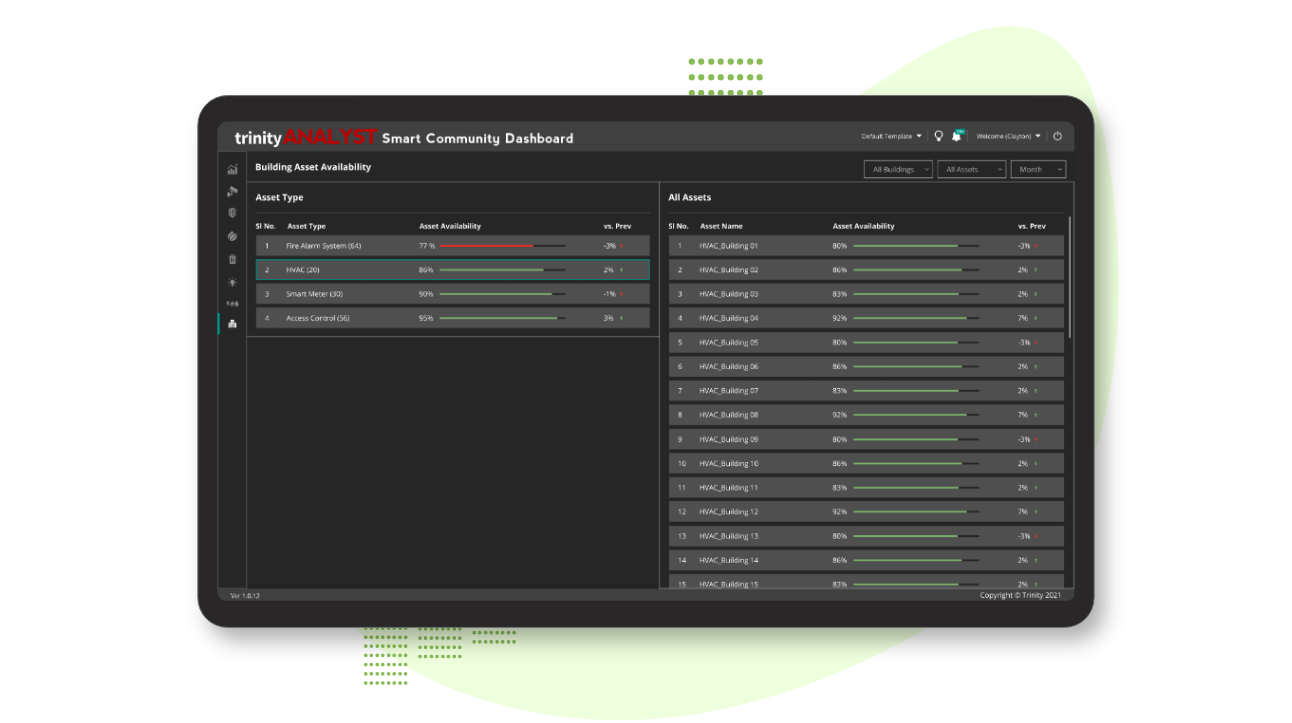 Optimize utilization of community assets and drive Consumption
Pre-packaged with AI apps to assess community building performance, predict energy consumption, environment conditions and optimize asset utilization. Perform device health analysis to provide early warning detection of asset outages to reduce operational downtime
Empower facility team with insights to respond faster
Optimise facility team efficiency through a Community Work Force Management System and enable operations across all departments. Workforce Mobile app to provide real time insights to the incidents for faster remediation.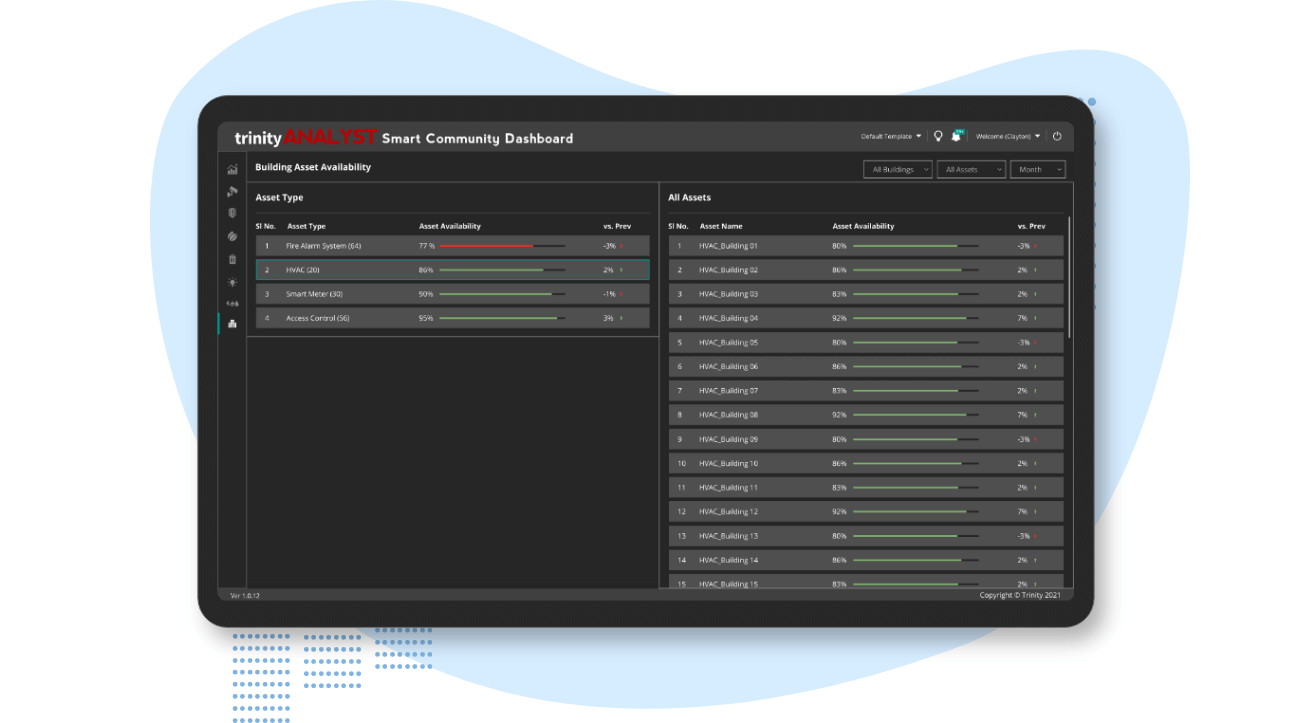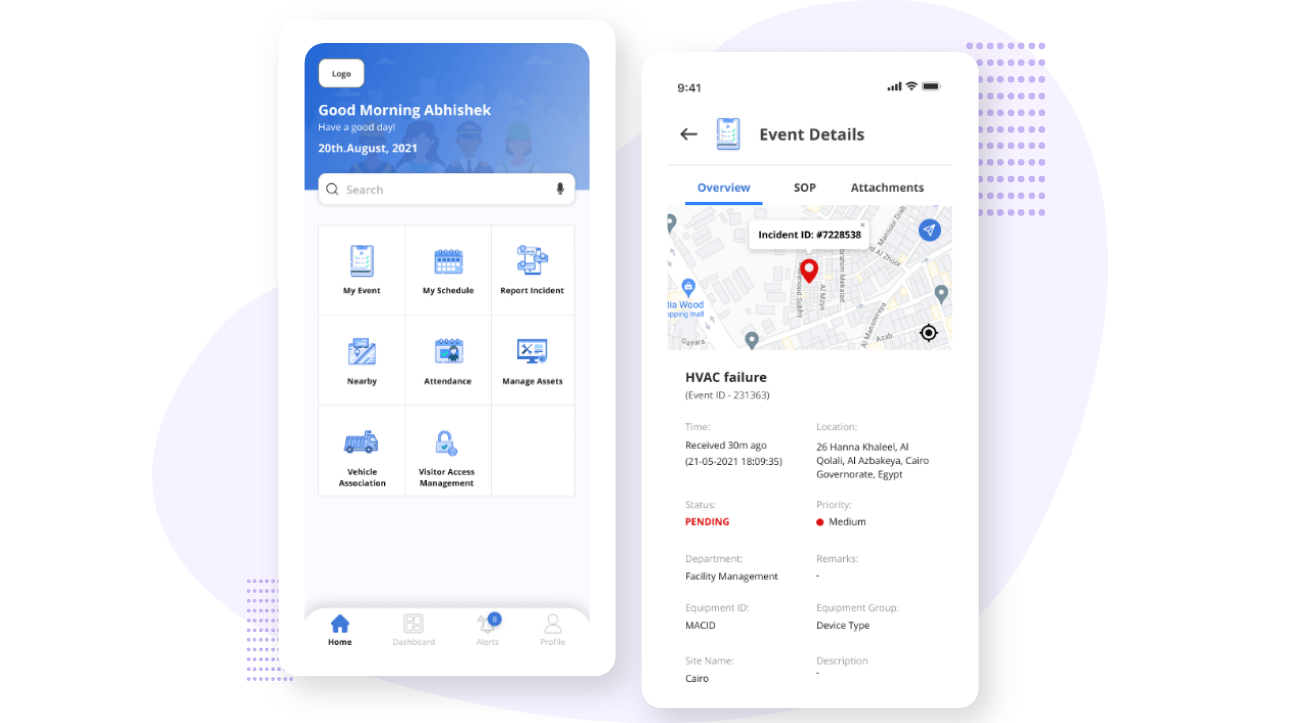 Provide a Safe environment and enable community users to digitally avail services
Super app for Residents, Visitors & Tenants to connect, easily avail community & utility services, make payments & navigate the community space. Case Management System for grievance redressal and delivery of digital services